Magic spells and Phials
Ravel, Offenbach, Berstein, Humperdick, Rossini, Rosenthal...
Magic spells and Phials
créé au Festival Mino, Espace Cardin Paris
Stephan Grögler
Stephan Grögler
Véronique Seymat
Stephan Grögler
Gaëlle Méchaly, soprano-Ezequiel Spucches, piano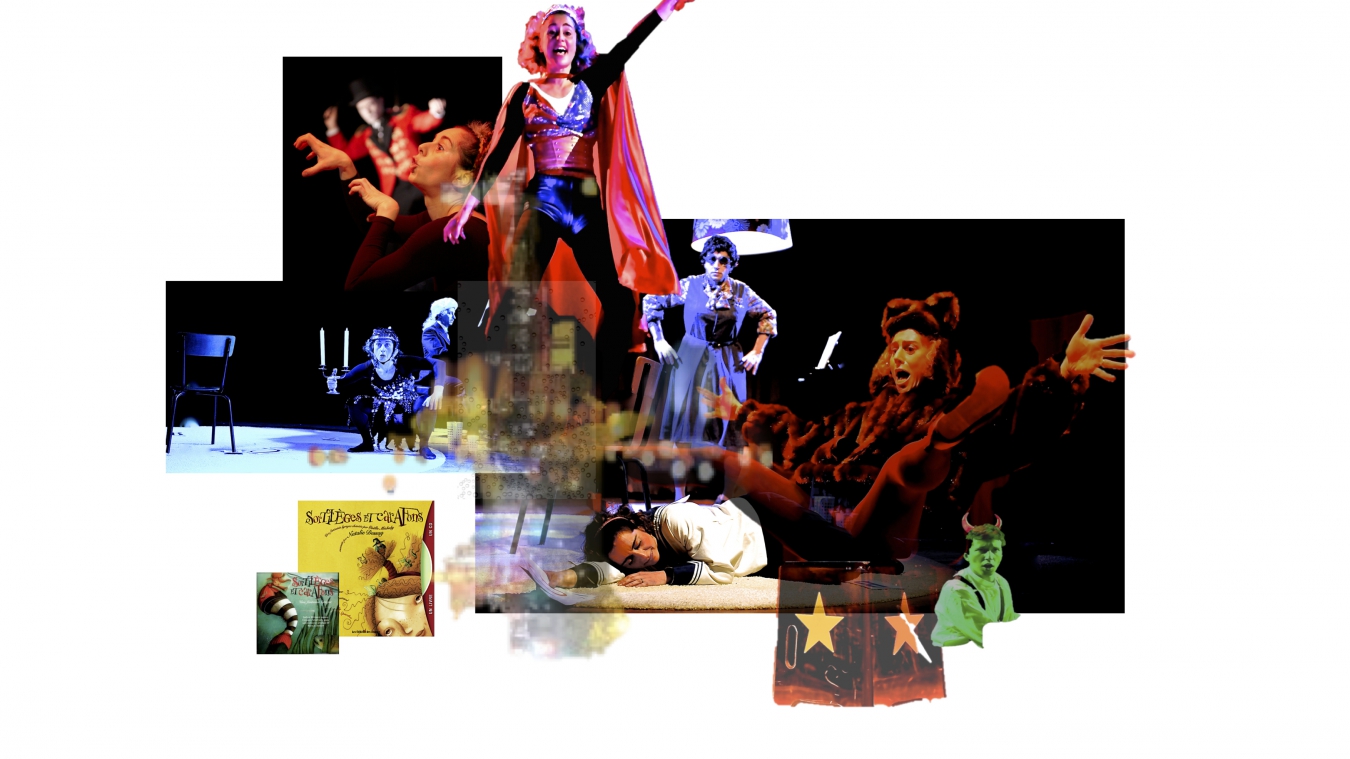 Sortilèges et Carafons ( Magic spells and Phials)
a lyric extravaganza for the use of children
Is opera singing really too stern for children?
Certainly not! Not whenever soprano Gaëlle Méchaly and her accomplice Ezequiel Speeches take possession of the classical opera airs. They shape a whole universe quite similar to the kids' own, in which unbridled imaginary inventions and every day life seem to merge.
It is an extravaganza whose talented creators must be commended without delay.
An explosive initiation to the art of opera singing in 50 minutes, 20 airs and 10 costumes. From Ravel to Sauguet, Bizet to Rosenthal via Rossini, Offenbach, etc.
Subjects familiar to children, treated with extreme humour, staged by Stephan Grögler in a most iconoclastic, entertaining way.
I conceived the show Magic spells and Phials (Sortilèges et Carafon) as a real initiation to lyrical art dedicated to children, with the precious help of the pianist Ezequiel Spucches and the ingenuity of the director Stephan Grögler. . . My guiding idea was to introduce children to the magnificent repertoire of classical melody, the treasures of a rich cultural heritage. Even the most serious composers have found the musical simplicity that touches and attracts children. They also knew how to choose authors full of humour, tenderness, to tell children differently about the daily life, fears, doubts and phantasmagoria of their unbridled imagination. . . The natural continuation of this adventure was the recording of the CD of the show for which I asked the famous singer Nathalie Dessay to be our godmother and our artistic director for the studio sessions, and cherry on the cake, on the CD book she tells the story
The production can boast more than 120 performances: opera houses in Rheims, Tours, Nancy, Caen, Paris Opera Bastille,
The Ambronay Festival, MéliMôme Festival ,
Mino Festival in Paris, Kidzic in Belgium, etc.
It is a pedagogical tool, welcome by school teachers as well as by the media. In a nutshell a pure success.
Aged 7 to 77
TTT BRAVO Télérama
Available
Book with CD
Nathalie Dessay narrator
Gaëlle Méchaly soprano
A live-recording of the whole production (harmonia mundi)
Coproduction JMF
Airs performed by Gaëlle Méchaly, soprano,
and pianist Ezequiel Spucches
Diffusion
Victorie et Music
contact@victorie-music.com
DEDICACIES
François Postaire, Director of the Amphitheatre of the Lyon Opera House:
Sortilèges et Carafons is a show that has the great quality to address everyone, young and old, because it is treated seriously in its content and interpretation (great commitment of the performers) but in the lightness that suits children and adults-children! Thus the relevant musical selection proposed finds all its emotional power and gives the delicately scenographed show a wonderful moment of sweet and joyful reverie ! . . . . only happiness !
Serge Gaymard, artistic director of the Reims Opera House:
What a refreshing sight! Lively, alert, light as those fine bubbles that brighten champagne. From one song to the other, we pass with Maestria through an ever-changing flow of images. A show of controlled disorder, fine and funny to awaken young ears, fill the small jugs with lyrical spells.
Carmello Agnello, young audience Opéra National de Nancy:
When talent competes with generosity c'; is the light that can be seen in children's eyes and that makes life more beautiful. Thank you very much


Presse
All the intelligence of the program lies in the choice of melodies that appear childish in appearance, but which for some contain an incredible gravity. We must also highlight Stephan Grögler's ingenious staging, which plays on the fine line between ingenuity and malice. . . A show that introduces children to lyrical art and French melody by offering them a beautiful quality of interpretation and an intelligent theatre where we sometimes laugh yellow, like the adults!
LA LETTRE DU MUSICIEN
A talented Fantasy to be applauded urgently. . . TTT Bravo
Télérama
Gaëlle Méchaly has chosen the best way to animate children's minds without doing school animation, just as she knows how to play the child, she has no doubt that children can behave like adults. . .
LE MONDE
Liens
Credits